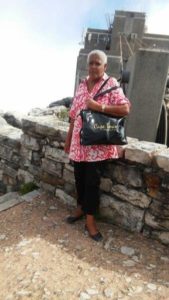 As a nurse I often came in contact with children who were physically abused, neglected and malnourished. Where I lived children often came to my door for food, sometimes even late at night. Mothers came to my door, begging for money, using their children as a reason for their request. I have encountered children living in households where drug abuse is high.  These households constantly have raids by the police and the children, particularly boys, feel important as a result of these raids.
When I stopped driving, I had to walk across the station in my community, and there I found children living underneath the station bridge. They were not at school, very untidy and begging for food. I then felt the need to reach out to these children but did not have a proper platform from where I could work.  I was very happy when the people from St Kizito Children's Programme came to our parish to recruit and start this programme because when approaching the parents I found them to be reluctant or rude. I immediately signed up to become a member.
My dream is to develop the children to become responsible teenagers and adults, to show them there are better things in life than crime, abuse and teen pregnancies. One young man I dealt with was removed from his mother, by social services, and placed in foster care. He has completed his Matric (grade 12) and is now doing casual jobs in different areas in order to find a career. I take joy in his development.
Children are our future and we need to drive them in the right direction. My children and grandchildren have to date reached their dreams, therefore I need to help other children to reach their dreams.